Nicholass Fakes Tournament, Dropped From Valid Roster – What happened?
On the 30th of March, Valid Unit made it public on Twitter that one of their players, Nicholass from Romania, took part in the RLCS-A 2022 Qualifiers. In the bracket that was sent to Esports Malta, Nicholass' first opponent was oKhalid. If you're a fan of competitive Rocket League, you know that oKhalid is the best 1's player in the world. A few minutes later, Valid tweeted that Nicholass beat oKhalid 3-1 in their series.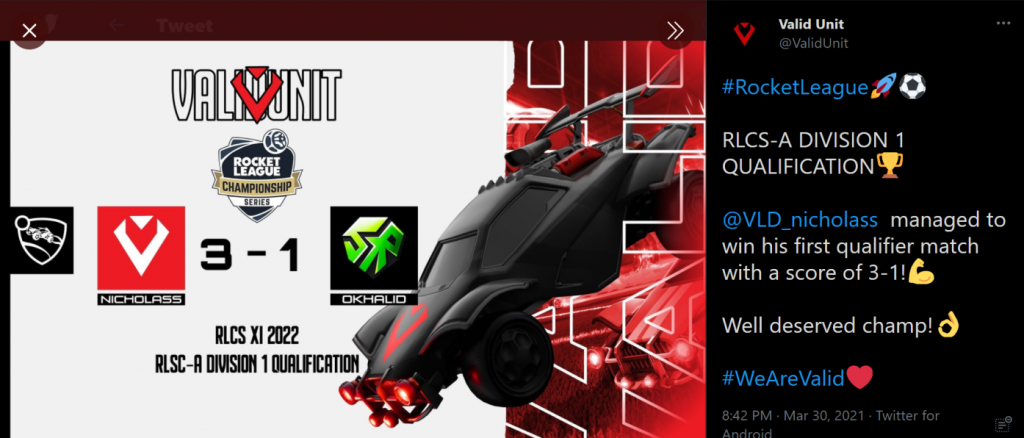 This astonishing result surprised the Maltese Rocket League scene. And local players for Project Eversio, Bungy and Vella999 started investigating the legitimacy of it all. After they came to their thoughts and realized what was happening, they contacted Valid Unit. Once notified, Valid took down all posts related to the tournament and was figuring out the next step forward.

Concluding Thoughts
I don't think we've ever had a similar situation to this in the local Maltese scene. Despite not actually being Maltese, this will still impact the Maltese esports scene, as well as Valid Unit. According to inside sources, Valid Unit are dropping him from the team due to his outrageous behaviour.
Unfortunately, this was out of Valid's hands, and they are definitely not the ones to blame. It's unfortunate to see that this situation happened to them, as they were getting a solid foothold in the competitive Rocket League scene. Even though there hasn't been any announcement or statement regarding the situation, it's still good on Valid for making the right decision. Since the squad is already made up of 3 members (Clixzyy, JayyFen and Syko) the team shouldn't be having any drawbacks in upcoming competitions.
Be sure to follow us on social media to get notified whenever we release local esports news!