Who is CGFX?
Julian "CGFX" Buttigieg is one of the very few talented esports graphic designers in Malta. For him, it all started when a friend of his requested an esports related banner for Twitter. Due to CGFX's lack of experience back then, the end result wasn't as professional as his current work. This is when he deeply understood the meaning of graphic design and immediately turned it into his passion. Nowadays he has made a name for himself when it comes to gaming-related designs, and he is contacted numerous times for his mind-blowing work. One of the main reasons to contact CGFX is because of his immense hard work and his very attractive prices!
What type of work does CGFX Specialize in? 
CGFX describes himself as a generic graphic designer, however, due to his love for gaming, he puts his focus on creating gaming related designs. These include Stream layouts and packages, Gaming logos, as well as Headers for any desired platform. Even though his speciality is in gaming designs, he also works with local marketing companies to create advertisements, posters, as well as social media posts.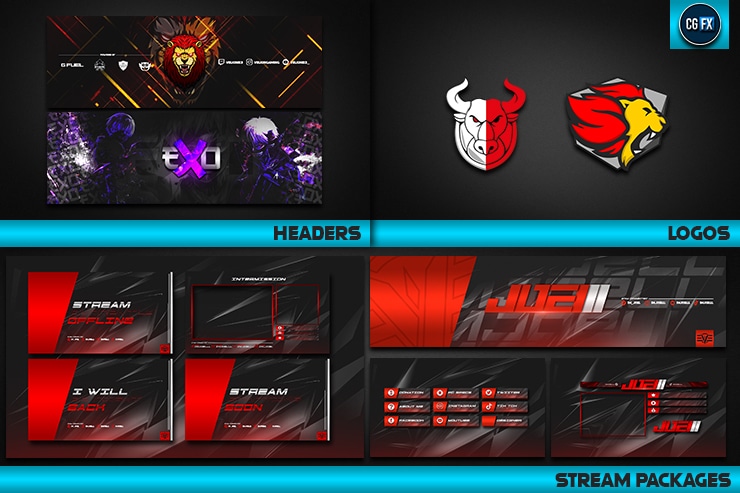 One cool fact about CGFX is that he's recently had one of his artworks used by a Call of Duty professional player with the name of Crimsix. The original story was that Crimsix required a new header for his Twitter account, and one of CGFX's clients was the one to actually recommend his work. Here is the Twitter thread below:
Who is CGFX outside of Photoshop?
Despite graphic design being one of his biggest passions, gaming and esports has been his main passion. He has been gaming for about 13 years and has also experienced esports competition at first hand. Locally he's known as CG (Short for ChubbzG) and is one of the best Call Of Duty Warzone players on the island!
CGFX Giveaways
As a bonus for his social media followers, CGFX does frequent banner/stream layout giveaways as a thank you to everyone that supports his content and work. He emphasises that having a strong platform to share your work on is extremely important these days, as it increases his relevance in the graphic designing industry and gets him more clients and customers.
If you're interested in having a design made, whether it be a logo, banner, or stream overlay, be sure to contact CGFX!