Group Stage Recap
As you may have seen, the group stage of the BOV ePremier League has finally concluded. With its conclusion, we now know who the strongest contenders are and who has the highest chances of taking the trophy home. Here's a short list of the group stage results:
Group A:
Hibernians FC (Dunstan Vella)
Valletta FC (Shaun Dimech)
Gzira United (Brandon Galea)
Floriana FC (Michael Owen Micallef)
Group B:
Lija Athletic FC (Alessandro Ebejer)
Hamrun Spartans (Shaun Galea)
Birkirkara FC (Ryan Galea)
Sliema Wanderers (Luke Bartolo)
Group C:
Zejtun Corinthians FC (Gianluca Sant)
Tarxien Rainbows (Ryan Cauchi)
Mosta FC (Leon Vella)
Sirens FC (Kyle Calleja)
Group D:
Santa Lucia FC (Christian Spiteri)
Gudja United (Kursten Sciberras)
Senglea Athletic FC (Owen Galea)
Balzan FC (Isaac Kyle Grima)
We had a couple of expected results, but there were some that surprised us. All in all, the main point was that we saw a spectacular scene of FIFA, and we saw the players having fun while they were at it!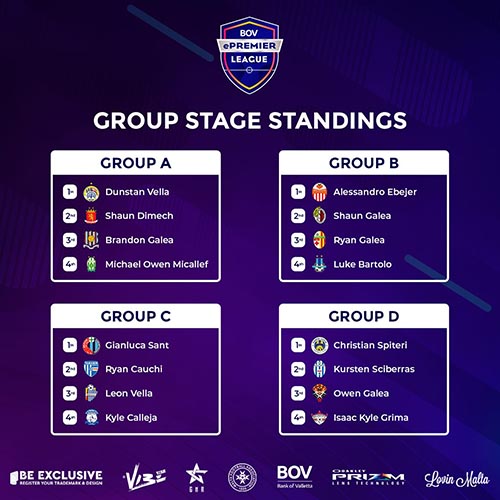 Now the league has finalized the knockout stage (Playoffs) draws. If you'd like to watch the whole broadcast click here.
Match-ups of the BOV ePremier League Playoffs:
7:00 PM – Santa Lucia FC vs Sirens FC
7:00 PM – Valletta FC vs Birkirkara FC
7:40 PM – Hibernians FC vs Balzan FC
7:40 PM – Gudja United FC vs Mosta FC
8:20 PM – Zejtun Corinthians FC vs Sliema Wanderers
8:20 PM – Tarxien Rainbows vs Gzira United
9:00 PM – Lija Athletic FC vs Floriana FC
9:00 PM – Hamrun Spartans vs Senglea Athletic FC
The Quarter Finals will continue on the 12th of May.
Predictions
With so many talented players involved in the BOV ePremier League Playoffs, it's very hard to predict just one victor. We know that Santa Lucia's Christian Spiteri has been the most dominant so far, but players like Gianluca "Turbuleense" Sant and Shaun "Brandsha" Galea have also improved their game. Hibernians' Dustan Vella has also impressed everyone, as he claimed #1 in his group, beating both Valletta and Gzira United. 
We know that it's going to be a clash of titans, so be sure to tune in and watch some of the action. As always, we'll be covering the tournament on our website, so follow our socials to get notified on when we do!