Final Standings + Winnings
1st – €750 – Project Eversio
2nd – €450 – Iconic Cinco
3rd – €300 – KY5
4th – Berserk
5th – Fat Gnag
Tournament Briefing
Playoffs
Due to their previous successes in the Malta National League, Project Eversio got a spot in the upper bracket final from the get-go. Their first match-up of the tournament was unsurprisingly against Iconic Cinco. Overpass was the map to be played, and while Iconic held a great performance, Eversio were just better. The blues won the map 16-11 and progressed to the Grand Finals.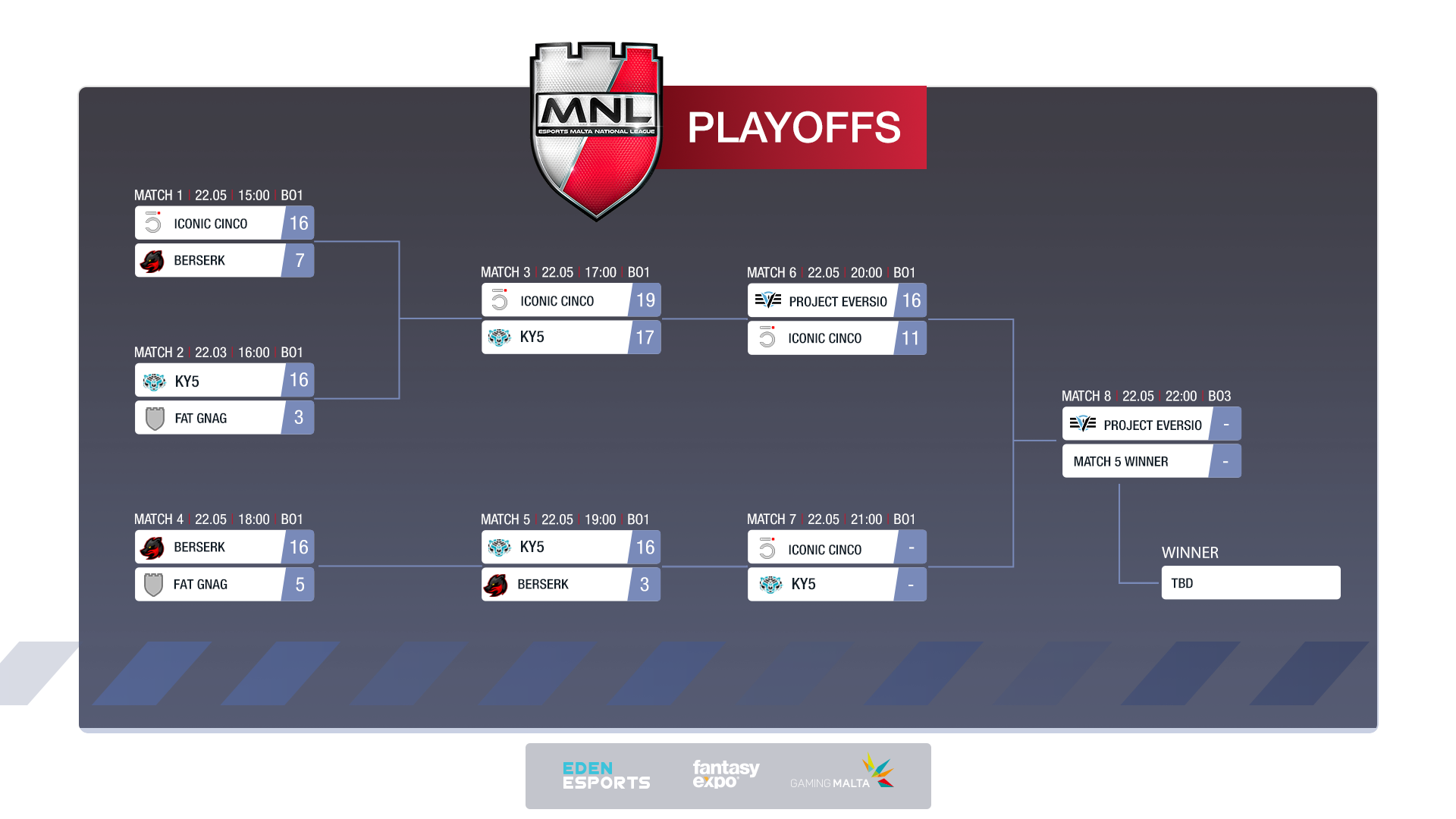 Grand Final
Much like every other Malta National League season that we had, the grand finals were once again between Project Eversio and Iconic Cinco. The maps played were as follows: Nuke, Mirage, and Overpass. Eversio have shown time and time again that Nuke is one of their most favourite maps, and they showed once more by winning 16-8 in their first game. On the other hand, Mirage is one of Iconic's strongest maps, and they too showcased a brilliant performance, winning 16-12 to tie the series. Unfortunately, the final map didn't deliver the quality we expected from the losing team. As Project Eversio completely dominated, winning 16-2 to get crowned champions of MNL S4. Here's a short clip of the final round:
Project Eversio Crowned Champions Of MNL S4 – What's next?
With this win, Project Eversio have automatically qualified to the European Development Championship Season 4: Closed Qualifier. Their first match will play out tomorrow, the 28th of May, at 4 pm, and they will take on the French squad of LDLC. It will certainly be a tough task to fulfil, but if the blues focus up, they can take down a couple of these teams and maybe qualify for the main event.
Don't miss out on any of the important local esports news by tuning into https://esportsmalta.mt/!