Splitgate has quickly become a favourite of many competitive streamers who grew frustrated by the main problems plaguing popular battle royale titles such as Call of Duty Warzone. A cross between Quake and Portal, Splitgate features super fast gameplay, and a strong reliance on aim and gamesense, that is a fresh breath of air for players that have been faced with unbalanced weapons, tacky upgrades and of course cheating in their previous game of choice.
Popular local streamer Nathan "Zelli0n" Bonello acted as host for the tournament, which attracted the interest of seven trio teams, most of which were Maltese, with some foreign teams thrown in the mix. With a double elimination format, and a €100 prizepool, the tournament was also an opportunity at potentially seeing new talent in the local FPS/3PS shooting scene, which hasn't seen tournaments for any shooting games other than Battle Royales and CS:GO in a long time.
The Grand Finals ended up being played between familiar names from the Warzone scene, with the beginnings of a rivalry seemingly sown.
Project Harmonica included Zelli0n himself, together with two young players who have been making headlines in Warzone competition, Skyler "Kavallo" Bezzina and Matthew "Matevz" Goodlip. On the other hand, Avengers consisted of Stewo, Bounder and Ben. German player Stewo, who boasts over $21,000 in earnings on Checkmate Gaming, most recently won the Pepsi MAX Big Hunt Warzone tournament, the tournament with the largest ever prizepool for Call of Duty: Warzone in Malta.
The Grand Finals started off with two quick rounds for Project Harmonica, but Avengers quickly rallied, playing in tight-knit groups and somewhat passively, and ended up taking numerous successive rounds from Project Harmonica, as well as the first set. The second set saw Project Harmonica come back, and after quite a bit of back and forth, took the win on the second set – 1:1.
This is where sportsmanship broke down, as one team member from Avengers, Bounder left the match on the last round. His teammates wrote to Zelli0n on his stream chat, informing him that Bounder no longer wanted to play, and that they were conceding the victory to Project Harmonica.
Rage quitting in a free-to-enter tournament with a €100 prizepool, which is being streamed is deplorable and disrespectful. To rub salt in the wound, the defaulting players also went on stream to demand immediate payment, with Ben calling Level Academy a scam for not paying out the prizepool immediately, as opposed to the end of September, which marks the conclusion of the SummerSlam series of events.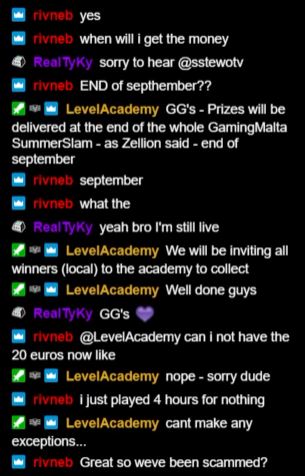 What do you think of this behavior? Should it be tolerated?