Lawfu, Klawka, Alihan promoted to PRO SkillUp FIFA players – Tournament Briefing
Lawfu
To kick off the tournament, Lawfu grabbed a swift 4-1 victory against Preessur in the 1st round. This got him into a battle against Kursten, which he won 2-1. From there he took on Ryan (Klawka) which beat him 2 goals to 1. This dropped Lawfu into the losers bracket and he went on to beat Preessur (4-1), DT97LDN (3-2) and got revenge in the 5th losers round against Klawka (3-2). This promoted him back into the upper bracket where he unfortunately lost against Alihan.
Klawka
Going back to Klawka's journey in the tournament, he started it all with a dominant ride through the first 3 rounds. He won 5-4 against Punisher, 6-1 against Jandies, and 2-1 versus Lawfu. Unfortunately his next opponent was quite challenging, as it was Alihan standing in his way. The match ended 4-3 in his opponent's favour and it got him into the 5th round of the losers bracket. This is where he got a rematch against Lawfu, but was unable to replicate his success earlier on in the tournament.
Alihan
Alihan had the cleanest run through the bracket as he went to the finals undefeated. He first started by winning 2-1 in Round 2 versus Owen. This got him into round 3 of the event, taking on MSV_Xander. Alihan came out on top with a 4-3 scoreline, and he advanced onto the Semifinals against Ryan (Klawka). Ali clutched up big time, and won the semis 4-3 to get into the Grand Finals. From there Alihan had to play a best of 2 versus Lawfu, and the overall score was 10-4.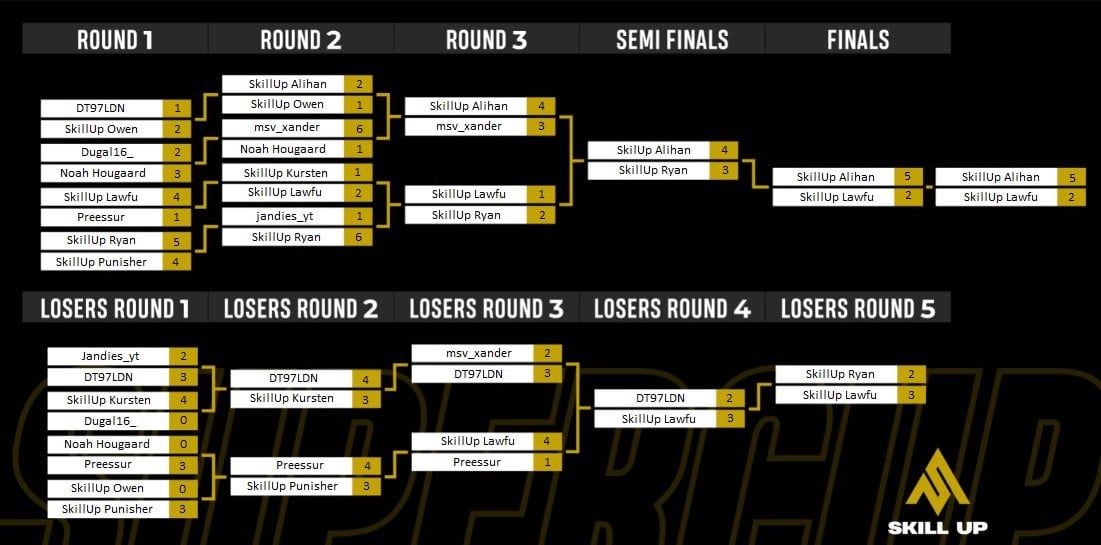 Here are some thoughts of the tournament winner:
I feel very happy because I played really well and I managed to grab the victory in the tournament. Whenever I win a FIFA event I am very ecstatic and relieved. However, even though I just won the tournament, I know that I have to train, play and continue to improve in the game. To be a leader in a team you need to put in the hours and train harder than everyone else. I will do my best to bring big wins to the organisation and hope to lead my teammates in the right direction moving forward.

Alihan, Professional FIFA player for SkillUp
With this tournament concluding, Lawfu, Klawka, and Alihan are promoted to PRO SkillUp FIFA players. Even though only 3 players made it onto the main team, there are a couple others that have received academy status within SkillUp. These players are the following: Kursten, Punisher, MSV_Xander, DT97LTD, and Preesurr.
We are happy to say that the first tournament we hosted properly was a success, with Alihan our 12-year-old beast taking first place. It was smooth amongst our players as well as players who were not in our organisation before it was held. For the academy players, we didn't want to lose their potential, hence the opening of the academy to keep the players. Give them a chance to show off their skills and possibly give them the chance to even compete with the pros. We will also give a chance to our academy players to go pro with possibly more Super Cups as well as competitions for players outside the organisation who could potentially join our academy.

Staff of SkillUp
Be sure to visit Esports Malta for more local esports news!