Final Standings + Winnings:
1st – SKADE – $17,500
2nd – ENCE- $7,500
3rd-4th – SINNERS Esports – $2,500
3rd-4th – Endpoint – $2,500
5th – 1win
6th – Anonymo Esports
7th – Sprout
8th – Sangal Esports
9th – Trident Clan
10th – Team Spirit Academy
11th – Double Poney
12th – Budapest Five
How did they do it?
Group Stage
SKADE kicked off the event with a spectacular effort in the group stage. They topped Group C as they finished with a 2-0 scoreline, beating teams like Poney and ENCE Esports. Due to placing top 2 in the group stage, they got seeded into the quarterfinals of the playoffs.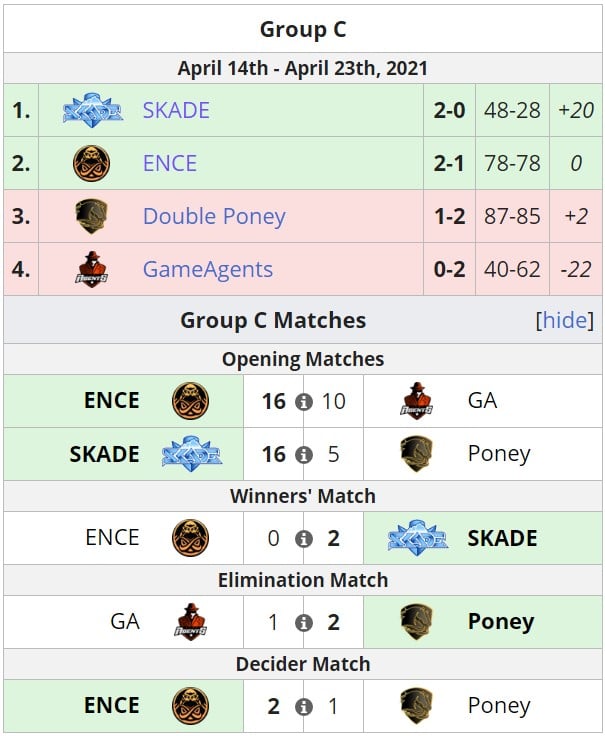 Playoffs
Here they took on team 1win, which was quite challenging for the SKADE lineup, as the series was close all throughout. However in the final map, SKADE closed out the match with a 19-17 score favouring themselves. Then in the Semifinals, they met against SINNERS Esports, a team that qualified through the MČR Tour 2021 Spring. SINNERS started the series with an overtime win of their own, but what followed were two consecutive wins for the Bulgarians.
Grand Finals
In the meantime, the newly revamped ENCE roster was slowly climbing through the bottom side of the bracket. They first beat Sprout 2-0, and then team Endpoint 2-0, and now their next opponent was SKADE. First map (Dust II) and second map (Overpass) were relatively close, as both games finished 16-13 and 16-12 respectively for both teams. However the final match was a dominant showing by SKADE, as they won Mirage with a 16-6 scoreline and were crowned champions of EDC Season 3. Here is how the series ended:
SKADE Crowned Champions of EDC Season 3 – Concluding Thoughts
This SKADE roster has shown time and time again that it has what it takes to compete with some of the best. Beating a team like ENCE in a grand finals is nothing short of a statement, and we can't wait to see what they have to offer in the final two seasons of the EDC.
Be sure to follow us on all our socials to get notified on all the latest local esports news!