WPR USF2000 Series – What is it?
The USF2000 Series is a championship for all sim-racers that play on the rFactor 2 simulator. Local drivers such as Andrea Rizzo and Dean Vella are participating in this championship.
Registrations are still available as there are 3 slots still available at the time of writing. If you're interested in taking part, head over to the WPR event page and insert the appropriate credentials on the application.
How will the points work?
The point system follows a placement procedure, and it will be distributed as follows:
1st  – 18
2nd – 15
3rd – 13
4th – 10
5th – 9
6th – 8
7th – 7
8th – 6
9th – 5
10th – 4
11th – 3
12th – 2
13th – 1
In addition to this, points will also be given to the driver with the fastest lap (5 points), starting the race (1 point), consistency (5 points), lead max laps (5 points), as well as pole position (10 points). However, one thing to bear in mind, is that if there's a no-show, points will be deducted by 10.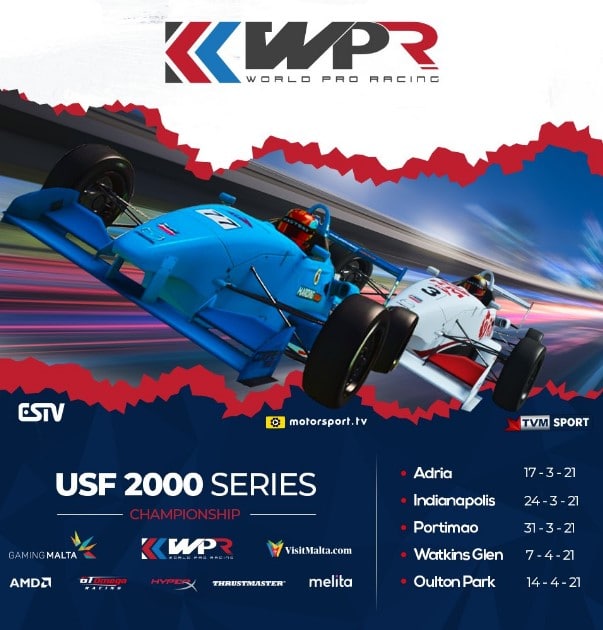 WPR USF2000 Series – Scheduling
The first race will be at the Silverstone National, and will commence on the 10th of March during the pre-season. After that is Adria on the 17th of March, and Indianapolis on the 24th. One week after, we've got the Portimao race on the 31st, which is closely followed by the Watkins Glen race on the 7th of April. Then lastly, on the 14th we've got the Oulton Park race to conclude the event. Here is how the race scheduling is going to play out:
Race briefing – 20:15 CET
Practice – 20:30 CET
Qualifying – 20:45 CET
30 minutes race – 21:05 CET
Where can I watch?
As mentioned in their event page, the WPR USF2000 series will stream on all their partnered broadcasting channels. That being, ESTV, Motorsport.tv, The Race and TVM Sport, including the WPR Twitch and Youtube channels.
This event is going to be a blast for all sim-racing enthusiasts, so if you're not racing, be sure to join in the fun and watch all these talented racers do what they do best!