Full Standings for the V1 Malta Series
Ryan Carabott – BWT Racing Point F1 Team – 185
Jake Sammut – Haas F1 Team – 173
Michael Pace Renault DP World F1 Team – 163
Manuel Schembri – Scuderia AlphaTauri Honda – 156
Simeon Nechev – Alfa Romeo Racing Orlen – 147
Adrian Manduca – McLaren F1 Team – 136
Brandon Bonello – Mercedes AMG Petronas F1 Team – 105
Clinton Falzon – Haas F1 Team – 101
Liam Gatt – Renault DP World F1 Team – 32
Kirsten Formosa – BWT Racing Point F1 Team – 30
Keith Vella – Aston Martin Red Bull Racing – 23
Chris Portelli – Scuderia Ferrari – 23
Kurt Friggieri – Williams Racing – 14
Daryl Pace – Scuderia Ferrari – 12
Wayne Schembri – Mercedes AMG Petronas F1 Team – 10
Mark Grech – Scuderia AlphaTauri Honda – 5
Kerstin Curmi – McLaren F1 Team – 4
Nigel Farrugia – Alfa Romeo Racing Orlen – 1
Round Briefing 1-4
In the first race of the season we had Simeon Nechev grabbing first at Melbourne, Australia. Here he was closely followed by Jake Sammut and Adrian Manduca, in 2nd and 3rd respectively. 
Then in Bahrain, Ryan Carabott got his comeback victory after getting DNF'd in the first race of the season. Manuel Schembri and Jake Sammut also had a great race as they finished the race just a few seconds behind.
The Chinese Grand Prix was a spectacular race, leading into one of the greatest rivalries of the season, Michael Pace versus Ryan Carabott. Here, Michael Pace was victorious, but it was too close for comfort for the Renault driver.
In the Dutch Grand Prix, there were a total of 6 DNF's after so many hectic duels between the drivers. In spite of all of this, Manuel Schembri, driver for Alphatauri, took it as an advantage, and grabbed his first victory of the season.
Round Briefing 5-8
Spain also consisted of a couple DNF's, as 4 members got eliminated throughout the 33 lap race. Here we had Simeon Nechev grabbing the +25 points, including the 2nd win of the season.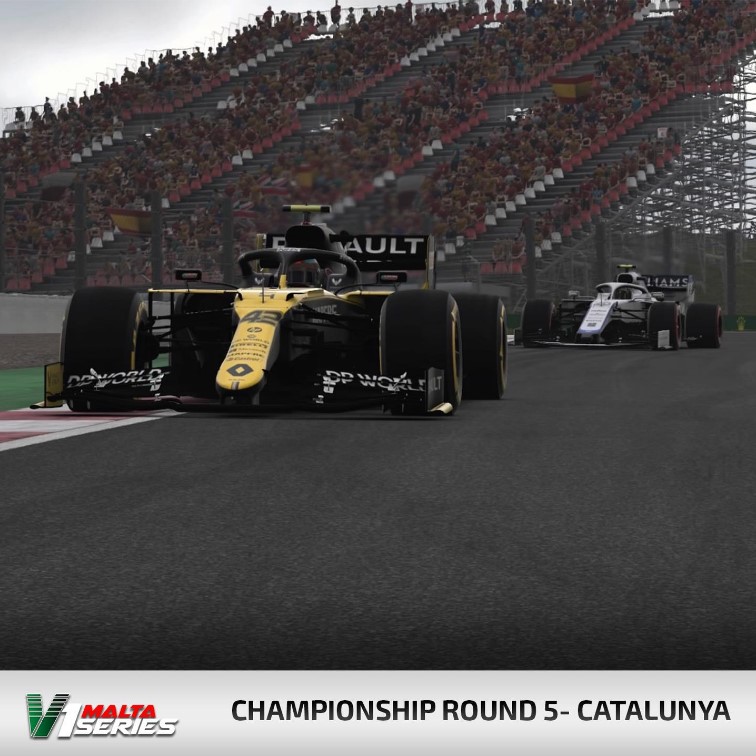 Monaco, being a very tight track, made it very challenging for drivers to try and overtake. This meant that it was all up to the qualifying stage of the Grand Prix to determine who will come out on top. This is where Jake Sammut put all of his focus on getting that pole position, and in the end it paid off.
Canada was up next, and here, Clinton Falzon got some strong points for his team, as he managed to grab a win in the 7th race of the season. Michael Pace was also getting some points for Renault, as he finished in 2nd at the Canadian GP.
France is always a great race to spectate, and it's where we saw Ryan Carabott shine once more, as he got the win for Racing Point. The two Haas drivers didn't do bad either, as they placed just behind in 2nd and 3rd.
Round Briefing 9-13
By this time, Ryan Carabott was already getting some people's eyes on him. In the next race he continued to extend his championship lead, as he won another race in the British Grand Prix.
The Austrian Grand Prix was identical to the two races prior. This is because we had another dominant performance by the Racing point driver, Ryan Carabott. Here, Jake Sammut placed 2nd, and Michael Pace came in 3rd.
In Hungary we saw a little shake up in the standings as we finally had a Renault Grand Prix victor with Michael Pace sitting on top. Adrian Manduca, driver for Mclaren had a solid race 2, coming in 2nd after 35 laps.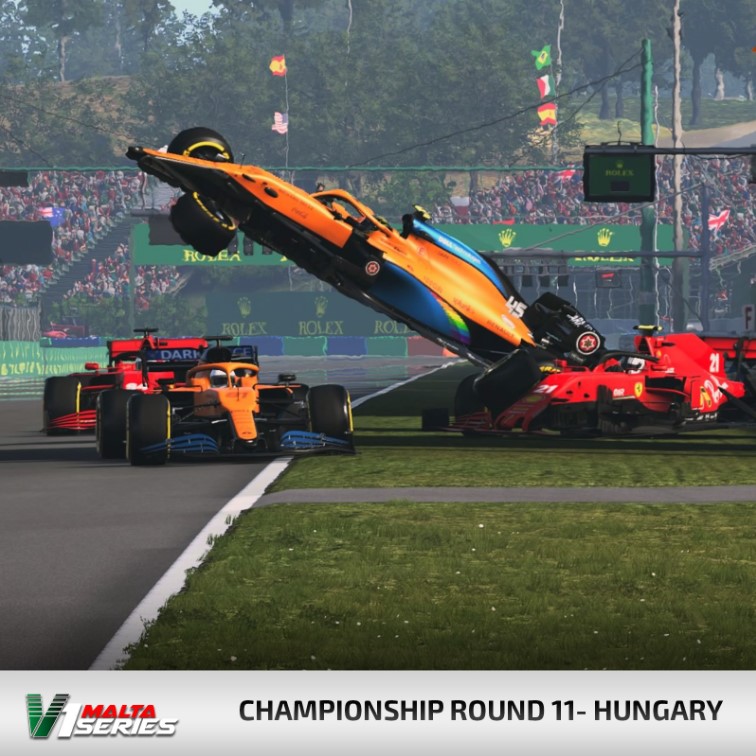 The Belgian Grand Prix followed similar results as the Hungarian one, as Ryan Carabott came 1st, Manduca 2nd, and Pace in 3rd. Here we saw the defining moments of both the Mclaren and the Renault drivers.
And now for the most recent race in the season, Monza, Italy. In good old Italian fashion, we had the usual 5 DNF's throughout the 27 lap race. Adrian Manduca took an immediate advantage due to his pole position, and Jake Sammut followed closely in 2nd. Ryan Carabott also had a solid race, after placing 3rd, with just a +2″304 second gap from 1st.
Concluding Thoughts
As can be seen above, Ryan Carabott is the clear leader for this season's V1 Malta Series. Despite his tremendous success as an individual driver, he and his teammate, Kirsten Formosa, aren't at the top in the Constructors championship. They currently sit in 2nd, just below Haas F1 team, led by Jake Sammut and Clinton Falzon. 
Here are the Constructor's standings below:
Haas F1 Team – 274
BWT Racing Point F1 Team – 215
Renault DP World F1 Team – 195
Scuderia AlphaTauri Honda – 161
Alfa Romeo Racing Orlen – 148
McLaren F1 Team – 140
Mercedes AMG Petronas F1 Team – 115
Scuderia Ferrari – 35
Aston Martin Red Bull Racing – 23
Williams Racing – 14
It's been a spectacular season so far, and we can't wait to see how it all plays out. Will Haas remain dominant in the Velocity Esports Racing league? Or will Carabott's incredible driving skills get Racing point on top? Be sure to never miss out on any important local updates by tuning into www.esportsmalta.mt!