Final Standings + Winnings (Top 8):
1st – Valid Unit – €45
2nd – Team Tragedy – €30 (+ €10 to Donut for MVP)
3rd – Nexus Team – €15
4th – VertX
5th/6th – Karrotti
5th/6th – Tragedy Academy
7th/8th – Chocken Noggots
7th/8th – Drunken Monkeys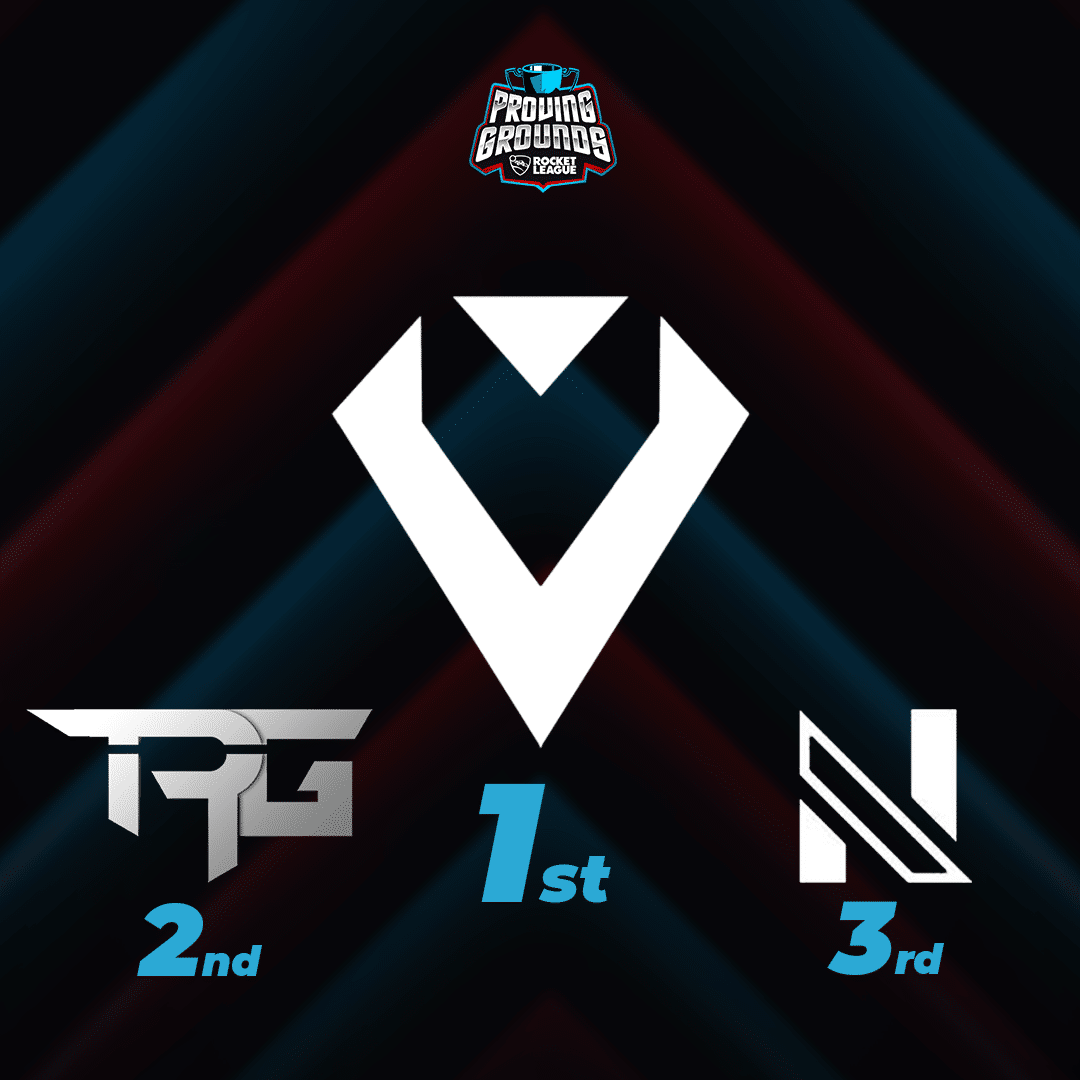 Valid Unit Win EXEM Proving Grounds Rocket League #1 – How did they do it?
Valid kicked off the event with their round 1 match-up against The Maltesers. It was a one-sided show for Valid Unit, winning both games to progress to the second round. Here they were bound to take on team GetBodied, but due to a disqualification, Valid Unit received an automatic win. This meant that their next match-up was in round 3 against team Dino Nuggies. This wasn't much of a difficult series for Valid, and they got the win.
In round 4 they took on Nexus Team, a promising team on paper, but unfortunately during the match against Valid, they weren't 100% there. Valid Unit took the first game 6-2, and the second game 7-1. What came after wasr a broadcast delay caused by a long best of 3 series between Team Tragedy and VertX. Tragedy came out on top in that match-up and advanced onto the winners finals game against the fearsome Valid Unit.
Winners Finals
This was one of the most anticipated matches of the night, and it surely delivered. Valid Unit were the first to strike as they won game 1 with a 6-2 score. Then in the second game we saw a much stronger Team Tragedy, as they managed to clutch up an equalizer to get into overtime. Unfortunately it was all for nothing as 58 seconds later, Clixzyy scored to take the series win.
That win secured the Grand Finals for Valid Unit, and it was all left to the lower bracket to determine their opponent. After that was done, it was Team Tragedy that got their comeback victory in the lower bracket finals to reach the Grand Finals with hopes of getting their revenge.
Grand Finals
With the format chosen for this event, Valid Unit were only required to win one best of 3 to win it all. However, since Tragedy came from the lower bracket, they had to win two best of 3's back to back. Here we saw a much stronger Team Tragedy, as they defended extremely well, and tried their utmost to score a goal. Unluckily Valid Unit's attack was a tiny bit stronger, and they grabbed a 1-0 win. In the second game, Valid got the edge immediately, being 2-0 up in the first 3 minutes. Team Tragedy player Dupreme, scored the first goal for his team at the 54 second mark, but it wasn't enough to get the team into the scoring mentality to tie the series. Here is how the match ended:
Concluding thoughts
Valid Unit taking the win at the EXEM Proving Grounds for Rocket League #1 was something that many expected. Especially after their recent performances in other Rocket League tournaments. Something that truly surprised us was that the newly revealed VertX squad managed to reach 4th in their debut tournament! So big congrats to them, as well as Nexus Team for reaching 3rd.
Overall it was a great event to watch, as we saw a very competitive local Rocket League scene take part in our tournament. We cannot wait for our next EXEM Proving Grounds event, but until then, follow all our socials, and keep yourself updated with our website at www.esportsmalta.mt/!